Beat together the eggs, milk, cinnamon, maple syrup and the pinch of salt until well combined.
Heat a pan over a moderate heat and add in a little butter. When it is foaming, dip the slices of bread into the egg mixture and leave to soak for a few seconds. Place straight into the hot pan and fry for a minute or two on each side until golden.
Slice in half on the diagonal and serve immediately with a dollop of soya yoghurt and apricot jam.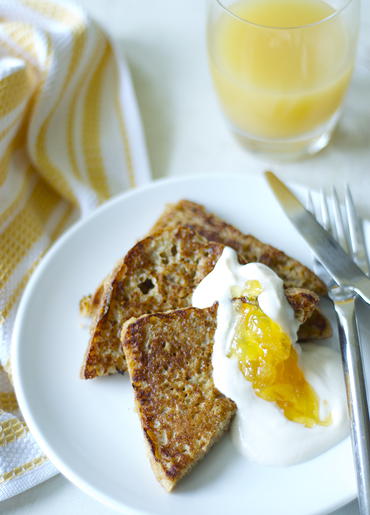 Prep time:
Cook time:
Total time:
Yield: 2 Servings
Ingredients
2 thick slices of bread (I used the Village Bakery brand of rye bread, but you could use any bread you like really, including gluten free if you are coeliac)
2 eggs – free range/organic if possible
100ml rice, nut or soya milk
1 tsp cinnamon
1 tbsp maple syrup
2 tbsp soya yoghurt
1 tbsp apricot jam
A little butter to fry (there are some great non dairy butters made with sunflower oil or soya)
Small pinch of salt